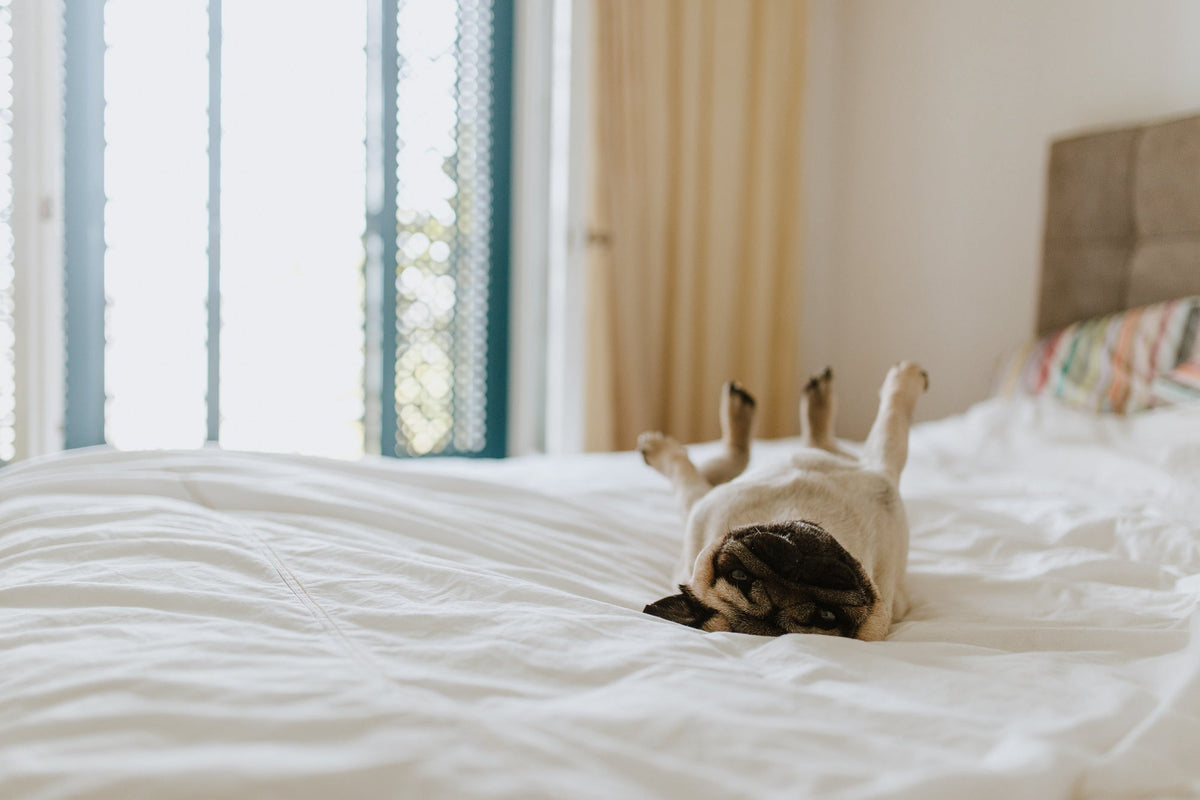 Pet-Friendly Hotel Chains: Where to Travel with Your Dog or Cat
Going on a vacation with your pet this summer? We're here to help you find the perfect pet-friendly hotel to spend time with your dog or cat. Traveling together is a great way to build your bond and explore new cities filled with new adventures. Below, we've rounded up our favorite pet-friendly hotel chains that can help make every day together extra special.
Get Travel Ready
Before you head out the door, make sure your pet is comfortable traveling. This can include taking them on short car rides if you're planning a road trip, or going to the airport in advance to help them get used to all the noises and people.
No matter what, always consult with your vet before planning a trip and make sure to bring all the essentials your pet needs to have the best time by your side. And don't forget to bring their favorite Yummers mix-in to add more flavor, variety, and nutrients to every meal.
Top 6 pet-friendly hotel chains
Picking the right pet-friendly hotel for you and your pet can help make your trip even more amazing. We recommend visiting each hotel's website before booking your stay to confirm they have everything you two need to have a great time. Below, we've rounded up our favorite pet-friendly hotel chains that can help make every day together extra special.
With over 60 locations across the U.S., Kimpton Hotels makes it easy to travel with your pet by your side. While you're there, the hotel can provide you with a pet bed, food bowls, and treats so they never run out of what they need. They even have a canine Director of Pet Relations at some locations who will greet your pet with a toy and a treat upon arrival.
Dogs up to 40 pounds are welcome at Aloft Hotels, and they even have a pet-friendly Arf Program offering complimentary gifts like a special bed, bowl, and doggie bag of crave-worthy treats and fun toys to help keep them entertained during your stay. If your dog is larger than 40 pounds, you can call the hotel and get a waiver. You can also ask for a room that is far away from noisy areas so your pet gets a good night's sleep while you're there.
La Quinta knows your pets are like family, which is while they allow you to bring your dog or cat along with you! They have pet-friendly rooms at the majority of their locations, and you're allowed to have two pets per room. Before you book, ask about their pet weight limit, and don't forget to let the front desk know that you have a pet in your room when you head out for solo adventures. Most locations also have a large grassy area for your pet to run around and burn off excess energy. While you're there, treat them to some Yummers to make the day extra special.
When you bring your pet to Westin, they're going to be treated like royalty. The chain allows mid-size dogs and smaller, welcoming your pup with a complimentary cozy dog bed and special amenities they'll love. As an upscale pet-friendly hotel chain, Westin prides itself on providing pets with everything they need to have a great stay, including bowls and crave-worthy treats. Many of their locations also have pet-relief areas and waste stations, making it the perfect place to visit with your pet.
At Sheraton Hotels & Resorts, the humans aren't the only ones who get the VIP treatment. The majority of their locations are pet-friendly with a weight limit of 80 pounds. When you check in with your pet, you'll get a pet welcome kit that has pet tips and goodies to make their stay unforgettable. Additional amenities include extra comfy pet beds, floor mats, food bowls, ID tags, and more to help your pet have the Best. Vacation. Ever.
A luxury boutique hotel, the Pendry is a must-see during your travels. While you're there, your pup can enjoy a plush dog bed and bowl to help them feel at home. Even better: the hotel is close to many pet-friendly restaurants so you and your pet can enjoy the beautiful views while eating amazing food.
Hotel policies and amenities for pets
Pet-friendly hotels offer a range of amenities for pets, including pet beds, food bowls, and treats. Some hotels even offer pet-sitting services, so you can enjoy your vacation without worrying about your dog or cat. Many hotels also have pet-friendly rooms that are designed with your pet's comfort in mind.
Hotel policies for pets vary from hotel to hotel. Some hotels allow pets to stay for free, while others charge a small fee. Some hotels also have weight and breed restrictions for pets. Before booking your stay, make sure to check the hotel's pet policy to make sure there are no surprises along the way. Bringing supplies like Yummers can help your pet feel at home wherever you go.
Tips for traveling with your pet
Traveling with your pet can be stressful, but by preparing ahead of time, you can make the journey easier for both you and your dog or cat. Some tips for traveling with your pet include:
Make sure your pet is up-to-date on their vaccinations and has a health certificate.
Pack plenty of food, water, treats, and Yummers.
Bring their bed, toys, and any other essentials that provide comfort.
Plan frequent stops for your pet to stretch their legs and go to the bathroom if you're on the road.
Use a pet carrier or harness to keep your pet safe and secure during your trip.
Pet-friendly activities to do while traveling
There are plenty of pet-friendly activities to do while traveling with your pet. Some popular options include:
Hiking
Visiting pet-friendly beaches
Exploring pet-friendly parks and gardens
Going on a sightseeing tour with your pet
Trying out a pet-friendly restaurant or café (bring your Yummers!)
Make memories with your pet this summer
Traveling with your pet can be a lot of fun, but it's important to plan ahead to ensure that your pet is comfortable and safe during the journey. By staying in a pet-friendly hotel and taking advantage of the amenities they offer, you can make your trip with your pet a memorable one.
Whether you're looking for a budget-friendly option or a luxury stay, there are plenty of pet-friendly hotel chains to choose from. So pack your pet, grab some Yummers, and get ready for your next adventure!