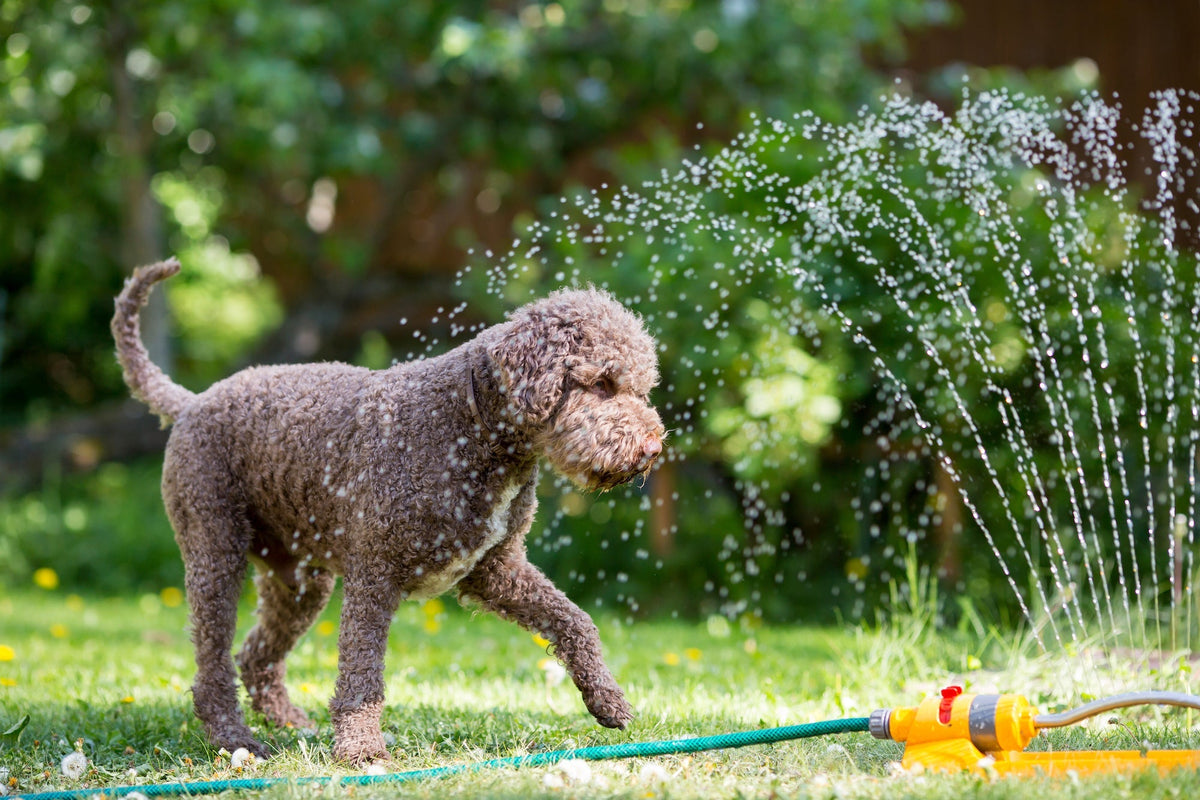 Top 10 Ways to Have the Best Summer Ever with Your Pet
Summer is finally here! It's time to enjoy the warm weather, longer days, and make the most of this season by planning fun outdoor activities with your pets. Whether you have a dog or cat, there are tons of exciting ways you can include your pet in the summer fun so it's the best one yet.
Below, we've rounded up our favorite summer activities for you and your pet with our top safety tips so they enjoy an extra special summer by your side.
1. Spend Time in the Water
Pools, Beaches, and Lakes
One of the most enjoyable summer activities for pets is swimming. Many cities have designated pools specially designed for pets, or they might even organize a "pet swim day" at a local pool. Cats can join the fun too! There are plenty of water accessories and safety essentials for both dogs and cats. If you don't have access to a pet-friendly pool, you can plan an adventure to a beach or lake together. Just remember to follow water safety tips and check if the area is pet-friendly before you go.
Backyard Pools and Sprinklers
If you prefer to stay at home, a pet-sized pool or sprinklers are sure to entertain your pet. You can purchase a pet pool that is easy to drain and has a non-slip surface, or even use a kiddie pool you may already own. You can turn on the sprinklers at a low setting and join your pet in the summer fun, followed by cooling down in a shaded area so your pet stays safe in the heat. While cats may want to stay away from the water, they can still enjoy the summer fun outside in a portable enclosure that you can fill with their favorite toys.
2. Venture Out for a Hike or Nature Walk
Hiking Trails
Hiking is another great way to bond with your pet and get exercise outside this summer. Choose a hiking trail that is pet-friendly and offers plenty of shade so your pet can cool down whenever they need to. Remember to bring portable water and food for both of you, as well as essentials like a leash, harness, and waste bags. If you're bringing your cat, make sure to practice guiding them on a harness beforehand so they are all set for the special summer day.
Local Parks and Nature Reserves
If you're looking for something less tiring, you can't go wrong with a nature walk in your local park or nature reserve. This is a great summer option for pets who have lower energy or mobility issues, but still want to explore outside. Don't forget to check if the park is pet-friendly before you head out and follow any rules or guidelines while you're there.


3. Plan a Pet-Friendly Picnic
A picnic is a great way to spend a sunny summer afternoon with your pet. Choose a pet-friendly park or outdoor space and bring food for you and your pet to enjoy. Make sure you have plenty of shade, water, and a comfortable spot for you and your pet to relax together. If they enjoy making friends, invite pet parents and their pets for even more summer fun and playtime. Cat parents can bring a harness or enclosure for their feline so they can also join the summer fun. Don't forget to pack Yummers for your pet to add flavor, variety, and nutrients to their meal.
4. Explore Outdoor Events and Festivals
Many summertime events and festivals are pet-friendly, giving your pet the chance to enjoy live music, food trucks, and other attractions by your side. Before you go, check to see if pets are allowed at the event and make sure your pet is comfortable in crowds. Be sure to bring water, treats, and any other supplies that help keep them comfortable and happy throughout the day.
5. Visit a Pet-Friendly Patio or Café
Next time you're meeting up with friends for food or coffee, bring your dog or cat along with you! Lots of places usually have a pet-friendly outdoor area where you and your pet can sit and enjoy delicious food and drinks. If you're ever unsure about their policy, check out their website or give them a call and make sure your pet is prepared by bringing food, Yummers, a water bowl, a carrier, and anything else they need to feel comfortable.
6. Watch a Movie Together
Outdoor Movie Nights
Pets can enjoy your favorite films too! Instead of heading to the theater, you can set up a projector or outdoor TV in your backyard and watch a movie with your pet by your side as the sun sets and the fireflies appear. Give them a comfy bed or blanket to lay on plus toys and treats so they stay entertained while you enjoy the night together. For cats, you can bring a carrier or portable enclosure so they don't wander far away.
Drive-In Movies
If you have a drive-in movie theater nearby, consider taking your pet along for a memorable movie-watching experience. Make sure your pet is comfortable with car rides and keep them safe during the adventure with a pet car seat and harness. Both dogs and cats can enjoy this activity with the right supplies, like their favorite Yummers mix-in!
7. Plan a Camping Date
Camping is another fun way to strengthen your bond and experience the great outdoors together. Choose a pet-friendly campground and bring all the necessary supplies like a tent, sleeping bag, carrier, food, and water. While you're there, make sure to follow all campground rules and bring supplies to keep your pet safe. If there are no campgrounds nearby, you can also set up a tent in your backyard.
8. Head to a Dog Park or Agility Course
Dog parks and agility courses give your pet the chance to make new friends, burn excess energy, and learn new skills. Plus, spending time around other dogs while stimulating their mind can help improve their behavior, confidence, and overall well-being. If you have a cat, you can bring them on a harness and walk trails nearby, as long as they are comfortable around dogs. Be sure to follow any rules or guidelines set by the park and always supervise your pet during their playtime.
9. Join a Pet-Friendly Race or Charity Walk
Many cities host pet-friendly races or charity walks during the summer months, allowing you and your pet to support a good cause and get exercise together. Check your local event listings for upcoming pet-friendly summer events and sign up to make memories you'll look back on for years to come. For cat parents, you can search for indoor, pet-friendly summer events that allow you to bring your feline on a harness or in a carrier. As always, make sure they're comfortable in public spaces before bringing them along.
10. Have Fun at Home
If it's too hot to spend time outside, you and your pet can enjoy indoor summer activities. Something as simple as throwing a toy up and down the stairs can help your dog or cat burn energy and have fun. If they're more of a curious type, try hiding treats or toys around the house for a game of scavenger hunt. And for any boxes you have laying around, pets love box forts and obstacle courses!
Keep Your Pet Safe This Summer
Schedule a vet checkup before starting any new exercises or increasing your pet's physical activity.
Help your pet stay cool in the summer heat by giving them breaks between activities and making sure they have plenty of water and shade. 
Keep an eye on your pet's energy levels and let them rest often, especially during the hotter parts of the day.
Learn pet CPR and first aid so you're prepared for any emergencies that may happen along the way.
Get your pet microchipped and add ID tags to their collar in case they ever get lost during the summer fun.
With so many great ways to bond and exercise with your pet this summer, you can both enjoy the warmer weather together. Whether you have a cat or a dog, all pets can have a fun summer with the right supplies. As always, consult with your vet for any questions or recommendations and plan ahead for the heat so your pet feels their best all season long.