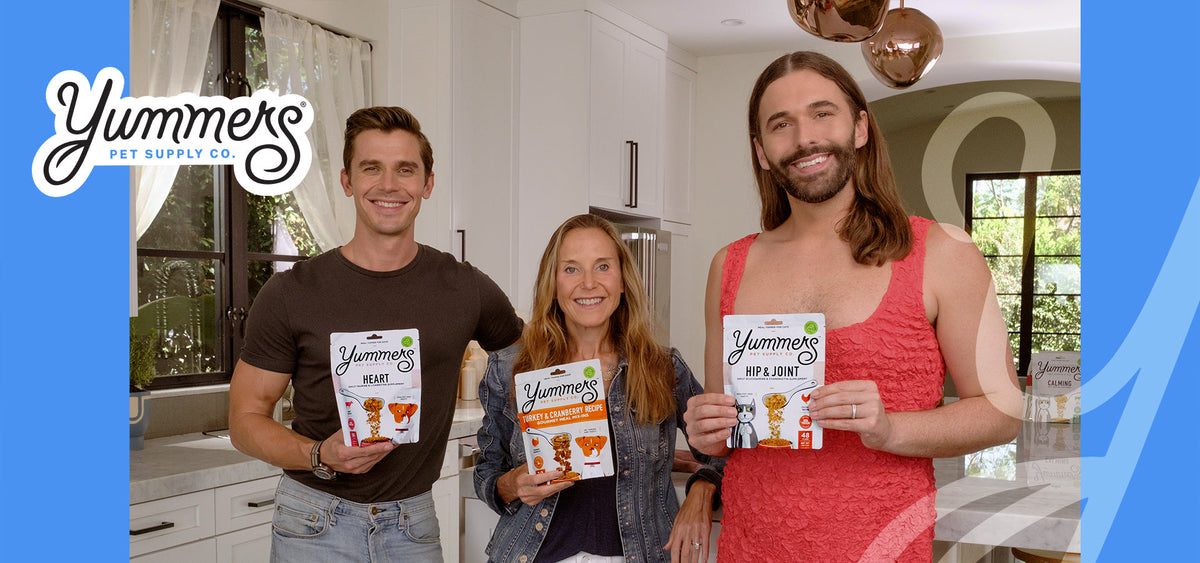 Yummers is Here to Transform Mealtime!
Antoni Porowski and Jonathan Van Ness (JVN), stars of "Queer Eye," and Rebecca Frechette Rudisch, marketing and brand leader, have teamed up to help transform the lives of pets everywhere.

"Some of the most rewarding relationships in my life have been with my pets and they have enriched my life beyond words," says JVN. "We have bonded over our love for animals, and we want Yummers to help people give all the joy and love back to their pets that they give to us." 


With options ranging from freeze-dried gourmet mix-ins made with single ingredient proteins to functional mix-ins that help support specific health needs, Yummers is here to make every day with your pet extra-NOT-ordinary. And for pet parents who prefer to simply add something special on top of their pet's bowl, Yummers also offers savory, tender morsels in irresistible flavors like chicken, beef liver, and cheddar cheese.
Why Yummers Mix-Ins?
As devoted pet parents, Antoni, JVN, and Rebecca are always looking for ways to make their pets' lives even better. But what they've found is that the options available run short.
"Food is about love and connection, and I've found that it's truly one of the best ways to show how much you care about your pet," says Antoni.


From low-quality ingredients to minimal variety, the pet food industry has been long overdue for a change. That's where Yummers comes in.
Mealtime Made Easy
Whether your cat is choosy or your dog is bored of the same ol' bowl, Yummers has a recipe for every pet. And it's easy to use - just pour it over their food, mix it in, and watch your pet have their best meal ever.
"Pets deserve an incredible life, and that begins at mealtime," says Rebecca. "At Yummers, we celebrate the joy, pride, and fulfillment pet parents feel when they provide the best care and life experience for their pets."
With a guiding principle of "your pet deserves a life this good," Yummers is now exclusively available at YummersPets.com, Petfood Express, and Petco.